I took advantage of the favourable weather forecast on Thursday and headed out to Settle. I'm not sure why I had not made it there sooner given it couldn't be easier by train, but my trips to the Dales have been all too infrequent as I focus efforts elsewhere for the
New Atlas
. Halfway round my planned circuit to Giggleswick Scar and back, I came to the little hamlet of Stackhouse and thought it worth a brief detour. Its fair to say the "spidey senses" were tingling and I've learnt not to ignore those! The gut-feeling didn't disappoint particularly when I found a little track that went round the back of the village between some high, old limestone walls.
First up was a fine stand of Hairy Bindweed (
Calystegia pulchra
), a bit of a thug but a very fine thug. I last saw this species 10 years or so ago in Wales, so a re-encounter was long overdue. This is a rare plant in the county and the historic records have a very low level of detail associated with them, so it was good to find a new location and record it accurately.
Next up was an even scarcer species and a new one for me - Lamb's-tail (
Chiastophyllum oppositifolium
). Just a shame I had missed it in bloom, as this huge colony must be an impressive sight when covered in yellow flowers. Previously this species has only been reported from Bowland, so this is a marked range extension.
Here's what I had missed earlier in the season ...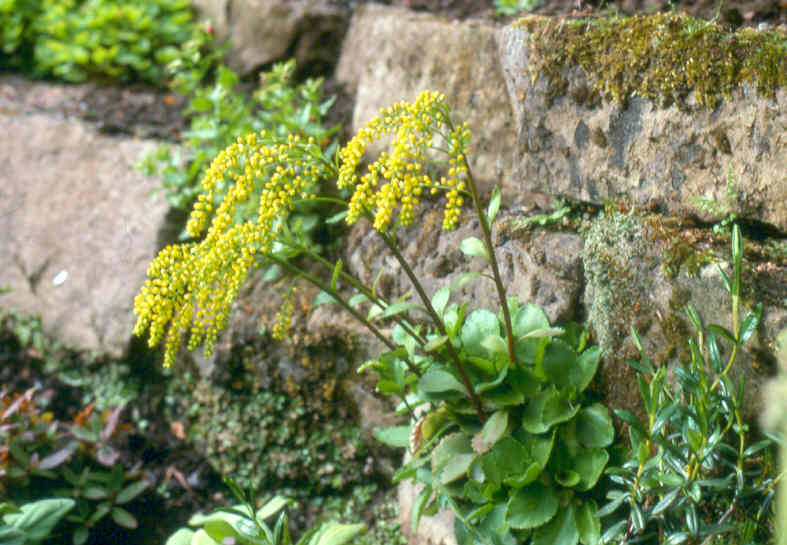 My luck was still in when, just round the corner, were two large plants of Elecampane (
Inula helenium
). This is another rare plant and predominantly found in the east of the county.
Elsewhere, I almost discounted the Yellow-flowered Strawberry (
Potentilla indica
) for the Wild Strawberry (
Fragaria vesca
) which is common on the scars above Stackhouse. Luckily there was a single flower and then I clocked the distinctive fruit. This is only the second record for the VC, and the first record lacks a detailed grid reference.
Final mention must be made of the uncommon white-flowered form of Ivy-leaved Toadflax (Cymbalaria muralis subsp. muralis) that was adorning some of the walls.This goes by the cultivar name of 'Pallidior'.